Color Masterbatch Blending Equipment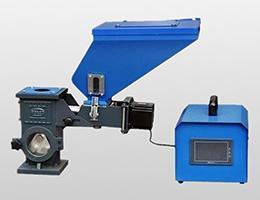 Application
The metering color masterbatch blending equipment is used in the automatic proportioning of new material, secondary material, color masterbatches and additives.
Features
1. This series uses a DC brushless motor, and blending is done based on a prechosen proportion, which is then automatically converted into a rotational speed through settings that have been input into the digital microcomputer control system. This directly drives the precision screw extruding material. The error value is no more than ±1%.
2. The motor's reduction ratio is divided into 30:1 and 100:1, and the screw can be directly divided into 12, 14 and 16mm, which can provide anywhere from 0.05 to 64 kilograms per hour of different output materials for customers to choose from.
3. Six models are available to choose from, with outputs of 0.1~32kg/hr. In addition, there are double color masterbatch blending equipment, any two sets of which can be used simultaneously to meet customer needs.
Parameters
Model
SCM-30-16
SCM-30-14
SCM-30-12
SCM-100-16
SCM-100-12
SCM-100-12
Motor power (kg)
0.6
0.6
0.6
0.6
0.6
0.6
Motor speed (r.p.m)
0~3000
0~3000
0~3000
0~3000
0~3000
0~3000
Blending power (kw)
0.09
0.09
0.09
0.09
0.09
0.09
Screw outer diameter (mm)
16
14
12
16
14
12
Output (kg/hr)
1.1~32
1.1~20
0.3~10
0.5~15
0.2~8
0.1~4
Storage bucket (L)
10
10
10
10
10
10
Reduction ratio
30:1
30:1
30:1
100:1
100:1
100:1
Main raw material door
Optional
Blender
Optional
Foot stool
Optional
Magnet frame
Optional
Outline size
580(H)*530(W)*290(D)mm
Net weight
29kg
Remarks
The number of the above models is determined based on a 1:2 proportion, and a diameter of 2 to 3mm masterbatch particles, with continuous operation as the testing standard.
Machine voltage specifications are: 1Φ, 230V, 50Hz.
Workshop installation drawings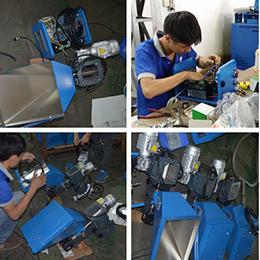 Hejin is a plastic industry manufacturer, we manufacture include resin dryers, PET crystallizers, industrial chillers, plastic materials pre-dehumidification system, resin blenders and mixers, also offer all plastic processing individual machines like material hopper, feeders and collectors, we have custom-made service business, according to your need to make all the plastic processing machines and resin equipment for you, we are a leading plastic product manufacturer in China, and experienced by more than 25 years focused on the plastic industry, we are after considering all related then offering good quality plastic products.
Related
masterbatch mixer, industrial blender, additive color mixing