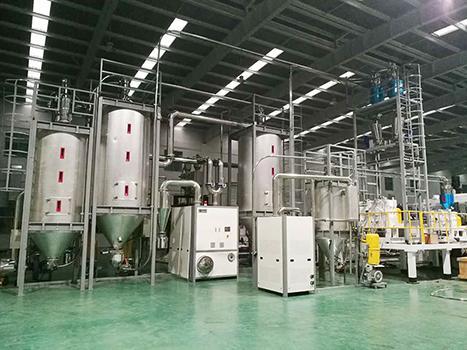 Application
The plastic processing central feeding system is designed for the production of plastic products in the injection molding workshop, and doing so in a continuous, automated molding operation. The combination of raw material types and multi-colored materials can be changed as needed in order to achieve automation of the coloring process. By setting up a central monitoring console, full automation is achieved, automatically regenerating and using injection cold materials in order to achieve control of all feeding devices, as well as prevent blockages in the storage silo.
The central feeding system flexibly and quickly processes polymer raw materials, and controls the complete material processing flow, from storage to transportation, then to the feeding of processing equipment. A full set of automated processes ensures there is no material waste due to improper handling. The single phase and 3 phase feeders work independently, and can be used on feeding systems with vacuum pumps and different feed conveyance devices, such as indoor and outdoor storage silos, opening discharge stations and dust removal systems.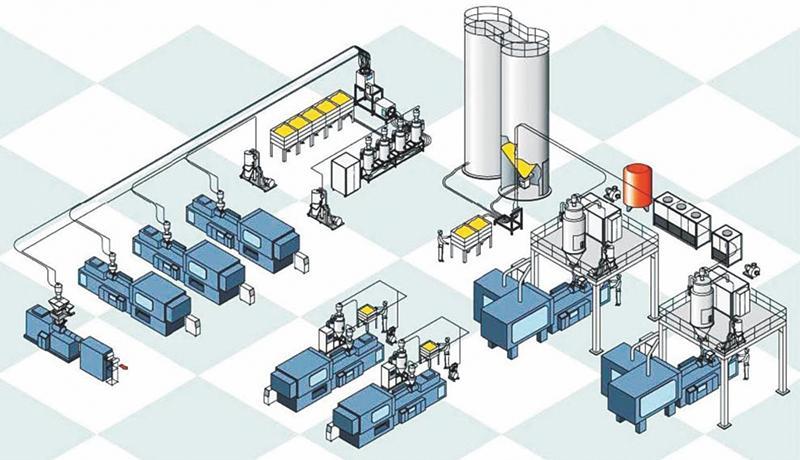 The central feeding system is a holistic solution based on the placement of the customer's field machines in relation to the field raw material condition, and combined with specialized auxiliary equipment in order to achieve centralized feeding and control, as well as further the entire plant's unmanned, uninterrupted molding operation.
Project site
Configuration
1. Dehumidification and drying combination
1. Even in extremely humid environments, the dehumidification and drying combination ensures a stable and efficient drying of raw materials.
2. The central dehumidifier is equipped with a closed circulation system in order to provide a continuous low dew point dry wind.
3. The high moisture absorption plastic is fully dried to ensure the excellent quality of the products.
2. Hopper dryer
1. The heat in the drying material bucket is evenly divided, making sure the raw material will be fully dried.
2. The bottom blowing hot wind design and the cyclone vent can further improve the drying efficiency.
3. All the material buckets are made of stainless steel with an added thermal insulation layer, cleaning door and visual window.
4. This equipment is equipped with a separate heating controller to set different drying temperatures for drying different raw materials.
5. Drying material buckets with different loading capacities, ranging from 12 to 5,000KG are provided.
3. Raw material delivery system
1. Convenient and fast material changing.
2. Strong, durable, long use cycle
3. Fast joints allow the users to choose the best batching pipeline. The central distributor and its matching joint also improve overall system efficiency.
4. Can feed to multiple molding equipment pieces at the same time.
4. Material suction box
1. Intercept the dried raw materials before they enter the feeding tube.
2. After drying, an interception function for the material suction box is used in order to directly transport raw materials to the molding machine in order to avoid the newly dried materials from being exposed to moisture.
3. Optional dry wind sealed feeding function
5. Electric-eye hopper
1. Can be directly installed in the material entrance of the molding machine.
2. Adjustable photoelectric inductive switch
3. Centralized control of all functions
4. Automatic raw material monitoring and vacuum diaphragm valve
5. Continual supply of raw materials to ensure that the molding machine is not short of material.
6. Vacuum hopper
1. A high sensitivity material position sensor is used to ensure the timely supply of raw materials and avoid production interruption.
2. Automatic raw material monitoring and vacuum diaphragm valve
3. All the hoppers can be controlled by the central controller.
7. Central filter
1. Large dust collecting barrel
2. Uses high pressure air to automatically clean the dust collecting barrel.
8. Central console
1. The whole feeding system is monitored through the operation panel of the central console.
2. The lcd touch screen allows users to easily control the work of all material buckets.
3. Users can supervise, manage and operate every link of raw material processing.
4. The set value and the actual value as well as the alarm information can be displayed to help diagnose faults.
5. With siemens plc controller, the system has a high reliability.
Hejin is a plastic industry manufacturer, we manufacture include resin dryers, PET crystallizers, industrial chillers, plastic materials pre-dehumidification system, resin blenders and mixers, also offer all plastic processing individual machines like material hopper, feeders and collectors, we have custom-made service business, according to your need to make all the plastic processing machines and resin equipment for you, we are a leading plastic product manufacturer in China, and experienced by more than 25 years focused on the plastic industry, we are after considering all related then offering good quality plastic products.
Related
industrial feeder, dehumidifier, drying system, automatic feeder