The customization capabilities of Hejin are some of our greatest strengths and we can supply customers with a wide range of products according to their requirements. Some of our most commonly customized products include our dehumidification dryer, PET crystallizer, auxiliary equipment for processing and forming of feeding system, weighing blending system, large outdoor storage silo. These products are often used in sheet extrusion, blow molding products, PET preforms, electronics, electrical appliances, communications, packaging, optics, medical treatment, auto parts, household daily products and other industries.
How can we provide custom solutions?
We employ a highly skilled professional technical team with years of experience and a thorough understanding of the manufacturing process of plastic processing enterprises. They carry out measures to enhance product quality and equipment demands within the industry. The high level design, production, and after-sales service personnel work together to fully guarantee the best solutions are provided according to the requirements of customers.
1. Design capability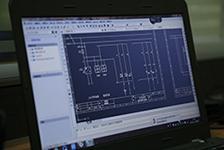 Since its establishment, Hejin has focused on the research and development and production of high quality auxiliary equipment for processing and molding plastic products. Our chief engineer has been in the plastic auxiliary machine industry for nearly 20 years, especially in the field of plastic dehumidification and drying. Early in 2000, we developed a molecular sieve desiccant dryer. This filled a need in the Chinese market and features a patent certificate. Currently, our plastic dehumidification dryer accounts for nearly 70% of the Chinese extrusion market.
2. Processing capacity
We have invested a significant amount of funds into purchasing high efficiency, high precision processing equipment, such as laser cutting machines, automatic welders, automatic vol-round machines, and high efficiency bending machines. The automated equipment is designed to maximize processing efficiency and overall output. The production cycle is typically 30-60 days depending on the size of the project.
3. Quality assurance
Hejin carries out a strict testing process, and equipped with a dew point hygrometer, air volume meter, vacuum gauge and other detection equipment, we test each and every piece of equipment before it leaves our factory. In addition to testing, we also perform thorough debugging to meet customer requirements.
Custom example
Custom process
1. Customers submit the usage needs of the equipment as well as any predicted problems and difficulties.
2. Our technology department meets and discusses to formulate a solution.
3. Further communication with customers to confirm the plan and sign the contract, and we provide detailed drawings.
4. The production in the workshop is completed within the prescribed period of the contract and is to be tested and debugged to meet the customers' requirements.
5. Delivery, making the appointment for installation time, our after-sales staff will travel to the customers' site for installation.
6. Debugging and training of customer staff, accepted and signed by customers.
7. Unscheduled visits within one year to collect customer opinions or suggestions.