Example 1: dehumidification dryer
In 2017, a PET preform manufacturer in Jiangxi Province was finding problems when their PET bottles were giving off a peculiar odor when filled with water. After an introduction by a mutual friend, the boss of our company agreed to meet and discuss the issue. At first, the customer in Jiangxi doubted the effect of our dehumidification dryer, so we decided to lend a set of trial machines to the customer for a month. It was an instant success and the odor was no longer a problem. The boss was happy to complete an order and drove many hours to deliver the trial machine back to our facilities.
Example 2: drying system and PET crystallizer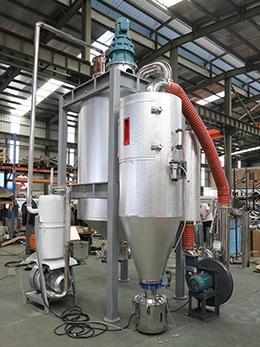 In 2016, a customer in Dongguan mainly engaged in PET sheet manufacturing with a PET sheet production line purchased one of our PET crystallizers to keep up with increasing orders. The first month into production, the sheet products were stable. However, as production output began to increase significantly, they began to form bubbles, displayed poor toughness, and some were slightly brittle. The drying system equipped by the main sheet machine manufacturer was effective, but only at lower production outputs.
They called Hejin and we examined their production requirements and the problems they were facing. We specially designed a set of dehumidification and drying systems to complete the drying process amount of two PET sheet main machines. We also provided a PET crystallizer for the customer knowing that some recycled materials had a low utilization rate, which is a problem solved by such equipment. The customer informed us that our equipment immediately solved their issues and also reduced the cost of materials.
Case 3: large outdoor storage silo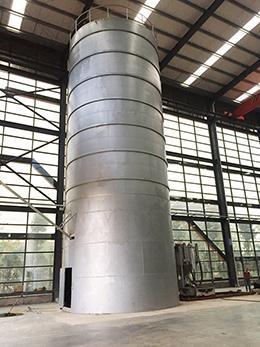 In 2016, a customer in Hunan was troubled by the problem that material storage took up too much of their production floor and that the materials needed to be kept in a sheltered area indoors. The storage area required before was 100 square meters and it featured two stacked layers. Additionally, material classification and management was difficult and the stacking and delivery process required excess manpower, increasing costs. We suggested that the customer use a large outdoor storage silo specially designed for their requirements. We designed a 200 cubic meter silo covering an area of 20 square meters, only 1/5 of the original floor space. Inside the silo were weight sensors to get a real-time understanding of the amount of material stored in the warehouse. Materials were transported directly from the storage silo to wherever it was needed, reducing handling losses. It also prevents material misplacement and theft. At the same time, the area of the indoor workshop was saved and the production cost was greatly reduced.